Parent Subscription
When you pay for a parent subscription with LoonyLearn, you gain access to your own parent dashboard. This dashboard is your homebase for your child's education.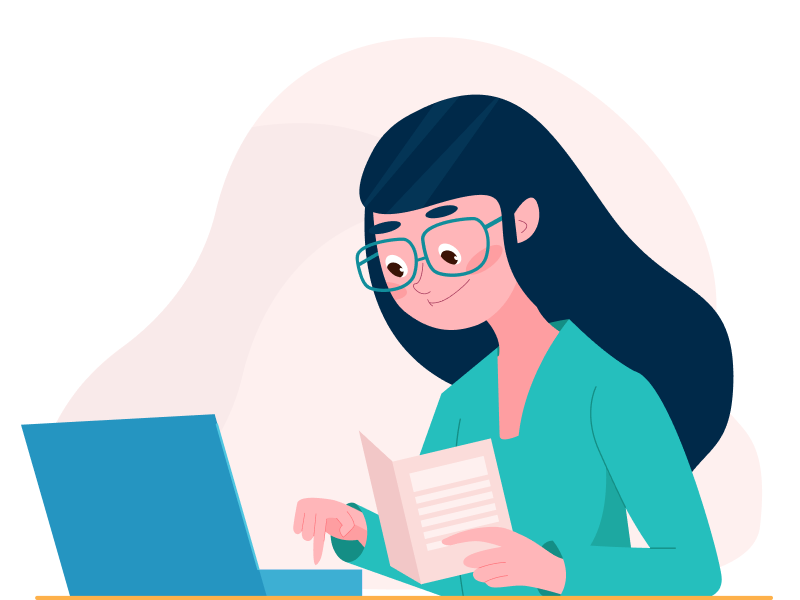 On the parent dashboard, you are able to assign your child topics to learn. For math, you select topics from our Common Core aligned curriculum. When assigning spelling topics, you have the option to choose from our curriculum or design your own lists. The dashboard allows you to customize your child's learning as they need.
After you assign a topic, your child sees it on their dashboard. They click the assignment, then select the game they want to play. You get to assign what they learn, and they choose how.
The parent dashboard also allows you to see your child's progress in realtime. As your child plays, our games automatically track and send data to your dashboard. You see how much time your child spent on a game, what they missed, and if they are meeting proficiency levels. And your dashboard not only tracks the data from your child's assignments, but also from their free play. You can then personalize their assignments based on what their data shows.
From assigning learning topics to tracking your child's data, your parent dashboard is your key to promoting your child's education.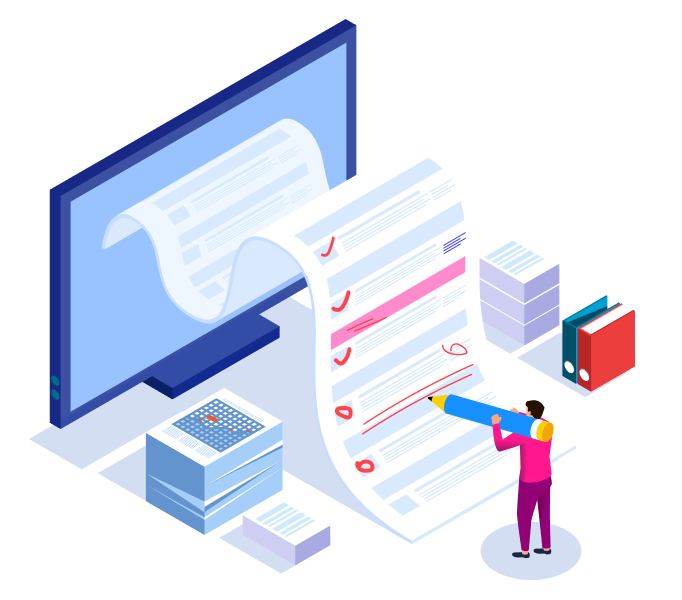 Teacher Subscription
As a teacher with a paid subscription, you unlock your own teacher dashboard. Your teacher dashboard allows you to differentiate. From the dashboard, you can assign topics to an entire class or one or more students. Select a topic, game difficulty, and due date, then let students play. You can assign different topics and difficulty levels for students based on their needs. With a LoonyLearn teacher subscription, you can meet students where they are at.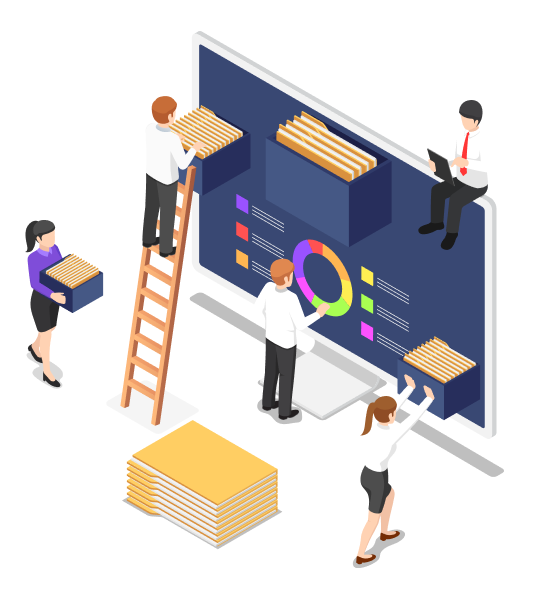 Additionally, you are able to track your students' data from your teacher dashboard. You see how much time students spent on a game, what they missed, and if they are meeting proficiency levels. All this data can be exported as a spreadsheet. You examine data for a whole class or a single student. On the class summary page, you see an overview of the class's performance. This includes the percentage of students who have completed the assignment and if the class is meeting proficiency. On an individual student's page, teachers see specific data such as what mistakes a student has made.
The teacher dashboard also allows you to access data when you do not have internet access. The data gathered from the games can be exported as a spreadsheet. This data is useful when discussing student progress with parents or other teachers.
Let LoonyLearn help you differentiate for a variety of learners. With our teacher dashboard you can see your students progress and adapt for their needs.
Dashboard Tour
When you first land on the teacher dashboard, you will see the class summary page. This page gives you an overview of how your class is doing.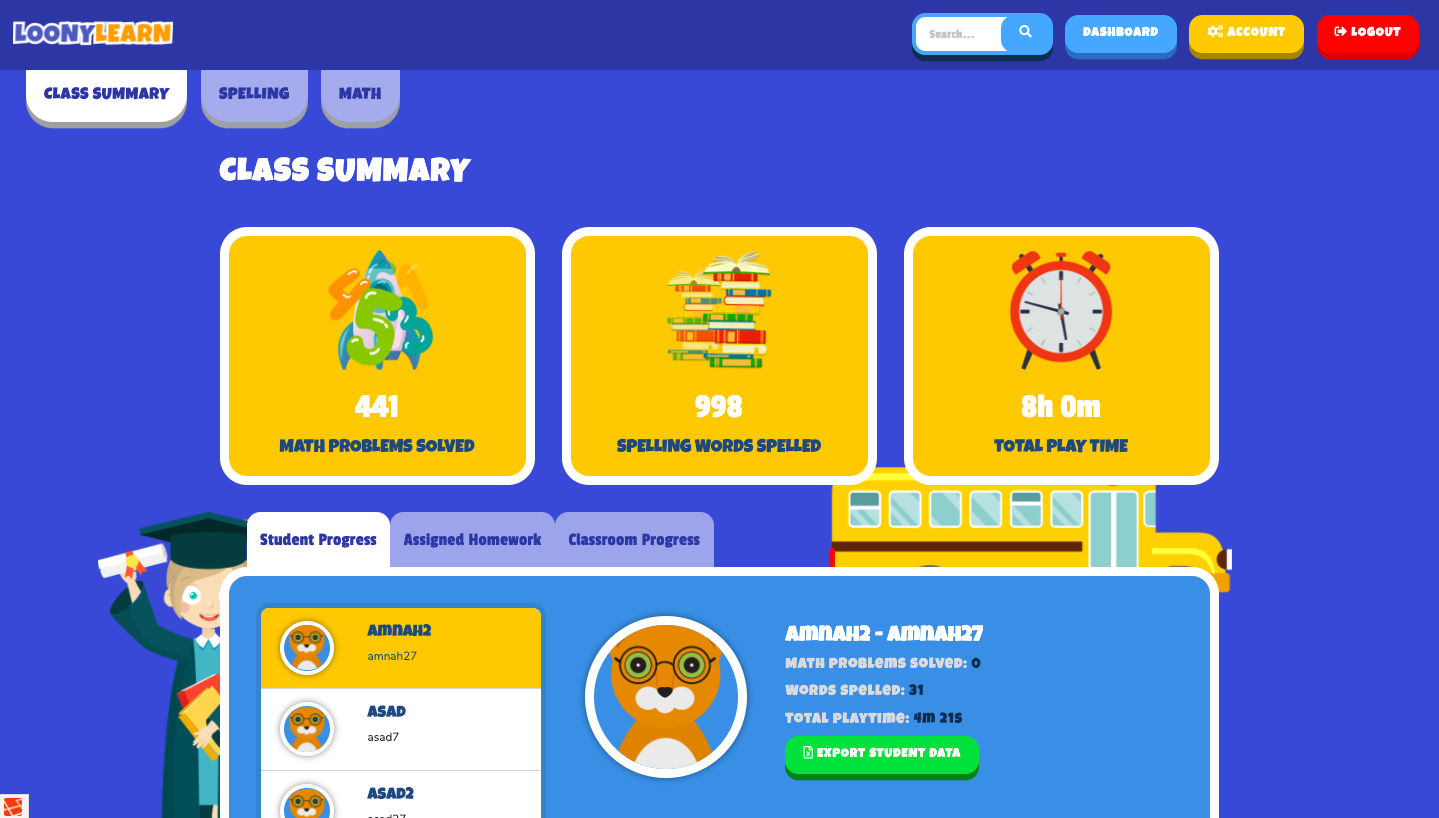 As you scroll down, you can select students to view their data. You will see the assignments they have completed, what topics they have played on free play, and their total time spent playing.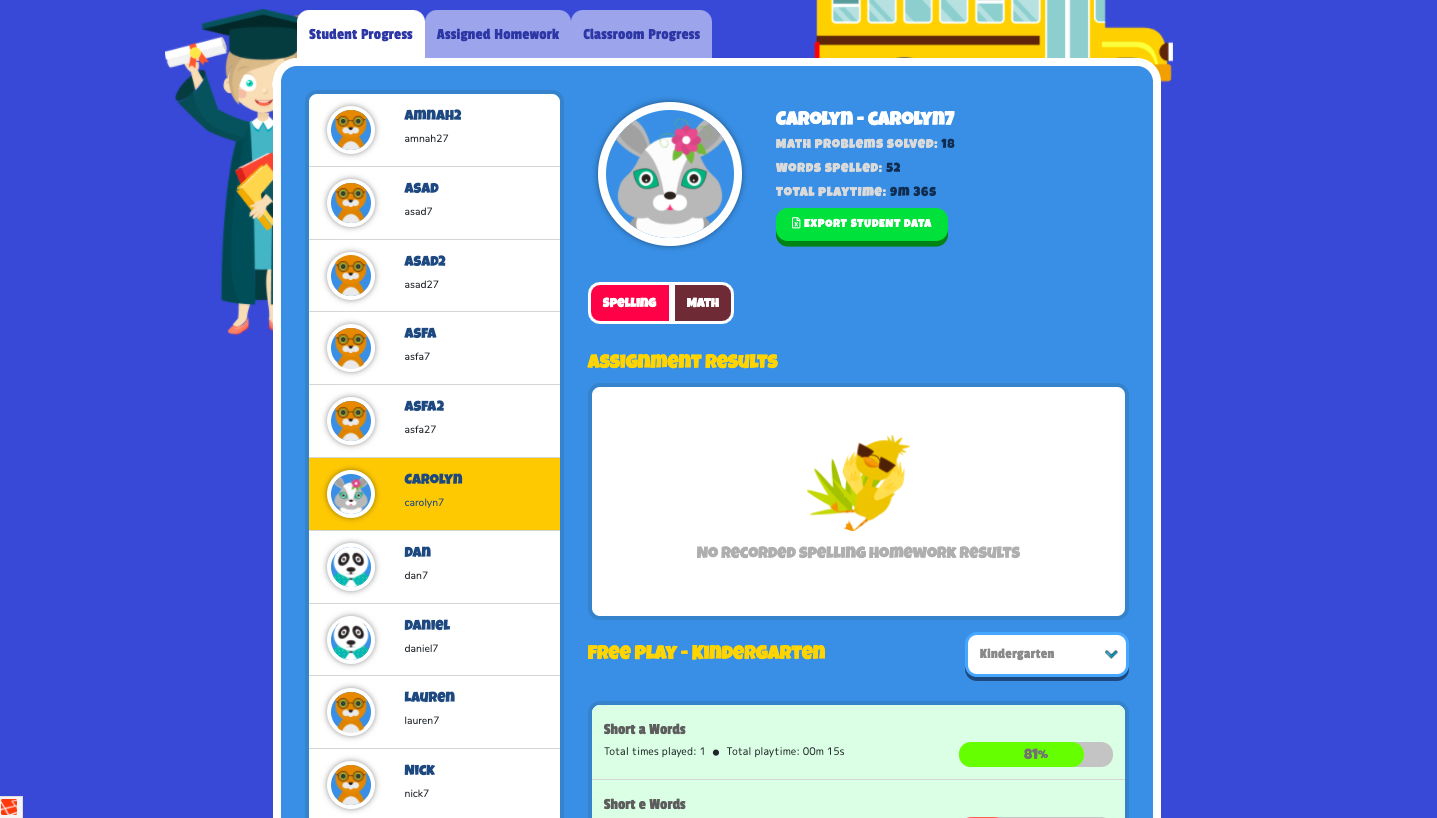 If you want to create a new assignment for your students, you can do so from the "Assigned Homework" tab. Simply click "Create New Assignment" and follow the steps to assign.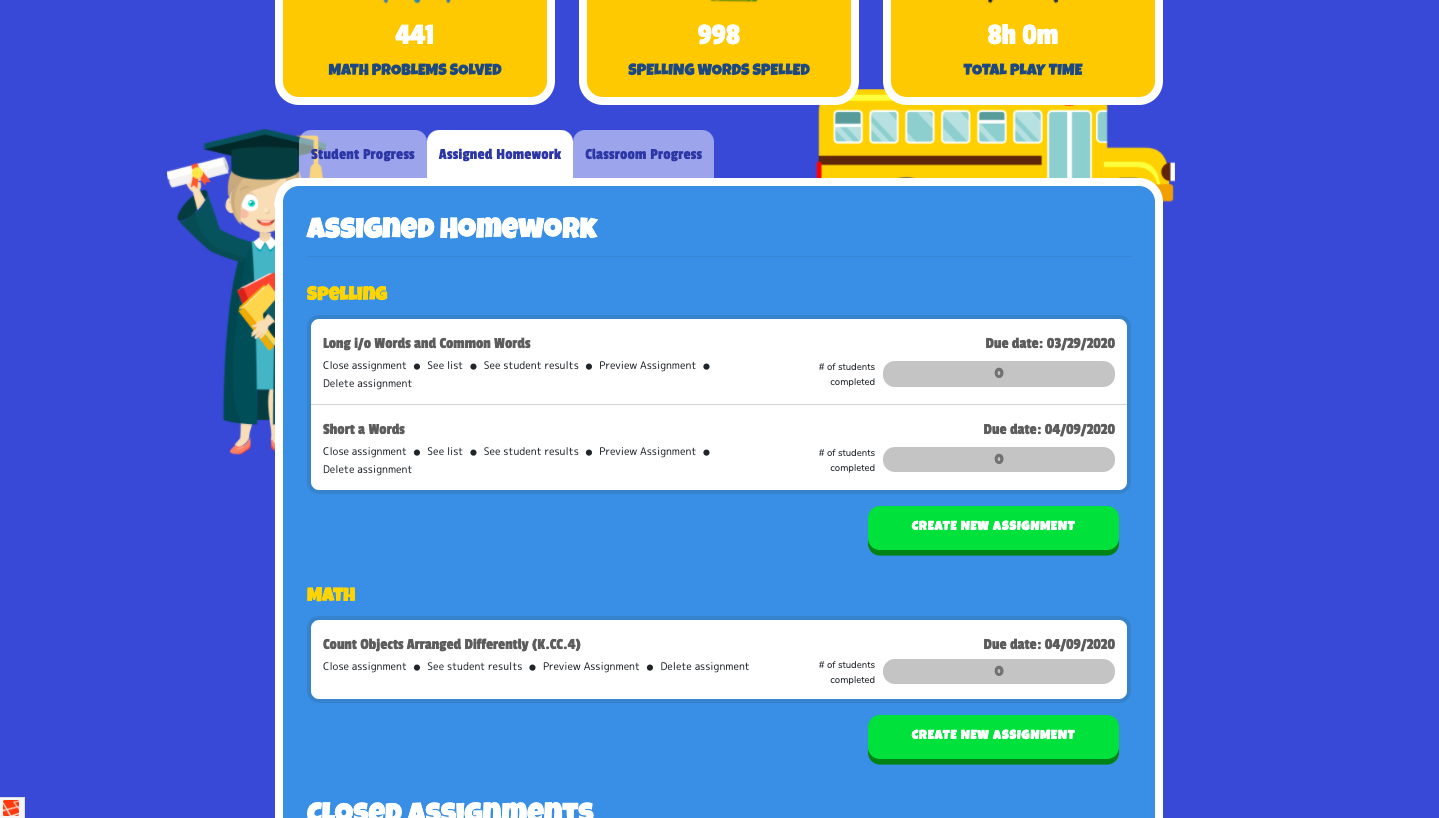 Once your students have played the assignment, you can track their progress on the "Classroom Progress" tab. From here you can check proficiency levels and export data.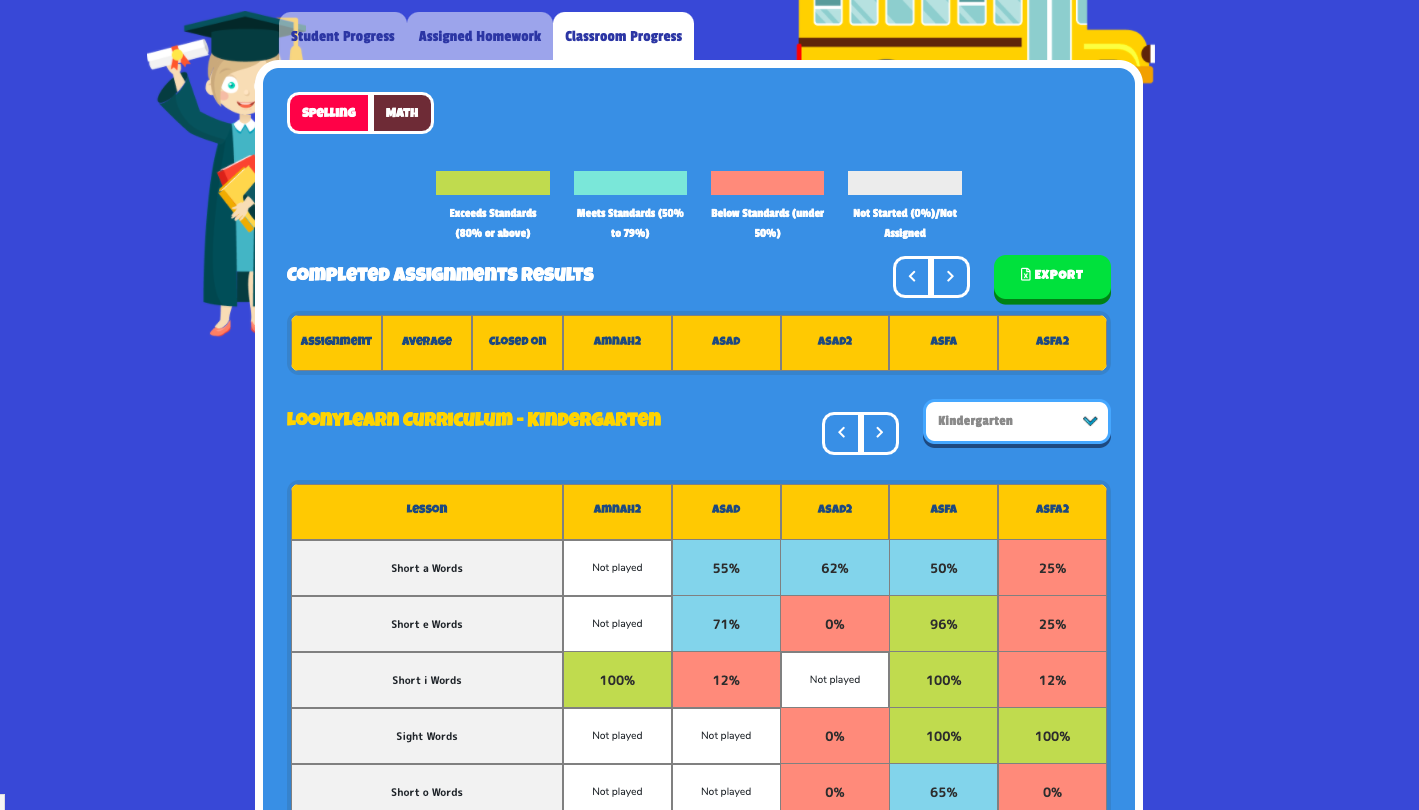 ---
Want to test out your own dashboard?
You can try out our paid subscription benefits now with a 14-day free trial. During your free trial you will have access to all of the same benefits of a paid subscription. Simply click on the button to create an account and sign up. The best part? You aren't required to give us your credit card information! Click here to get started.